André Snippe announced his Hyde Park project, located in Metropole Amsterdam, in Hoofddorp, during Provada 2017. Last year, construction commenced on the 3,800-apartment development. An update on the project, referred to by Snippe as the biggest residential property development in the Netherlands, 'with a decidedly un-Dutch look.'
Almost four years have passed since André Snippe presented his eyebrow-raising residential project Hyde Park at the Provada. He was then at the height of his property career, having been crowned
'Property Man of the Year' by Vastgoedmarkt property magazine, thanks in part to the successful redevelopment and transformation of the Diemen-Zuid residential campus location. Although initially facing scepticism, with this project Snippe was able to take 50,000 m2 of vacant office space off the market.
Holland Park
Even before that project had been completed, Snippe had embarked on a new one: Holland Park, removing a staggering 80,000 m2 of empty office space from the books. 2,200 apartments have now been realised through a collaboration with Bouw Accent and the commitment of private equity. Partly as rental homes for institutional investors. Snippe: 'We are currently working on the completion of Holland Park, in particular finalising the infrastructure. Like the other project in Diemen, this too is a great success even before completion. There are no more apartments for sale.'
The completion of Holland Park now means that he can devote all his energies to Hyde Park. 'Previous projects of mine also raised eyebrows at first. Especially as I started out in a time of crisis. But this scepticism has shifted during the redevelopment. Just look at Diemen now. Six years ago, no one wanted to live in Diemen. Now it's a hotspot.'
Excellent access
His plans to tackle the neglected business park Beukenhorst-West in Hoofddorp – where vacancy rates for office space were running at 80 percent – met with the same scepticism. Who wants to live in Hoofddorp? This is not a question that bothers Snippe. 'This negative attitude is ridiculous. Hoofddorp has a major station and is an excellent public transport location within just 4 minutes of Schiphol airport, 12 minutes of the Zuidas, and you can be in the Bijenkorf department store in the heart of Amsterdam within 20 minutes. The most significant factor in the development of a new area is access. And Beukenhorst-West has excellent access. It is close to Hoofddorp station, which until now has been greatly underused.'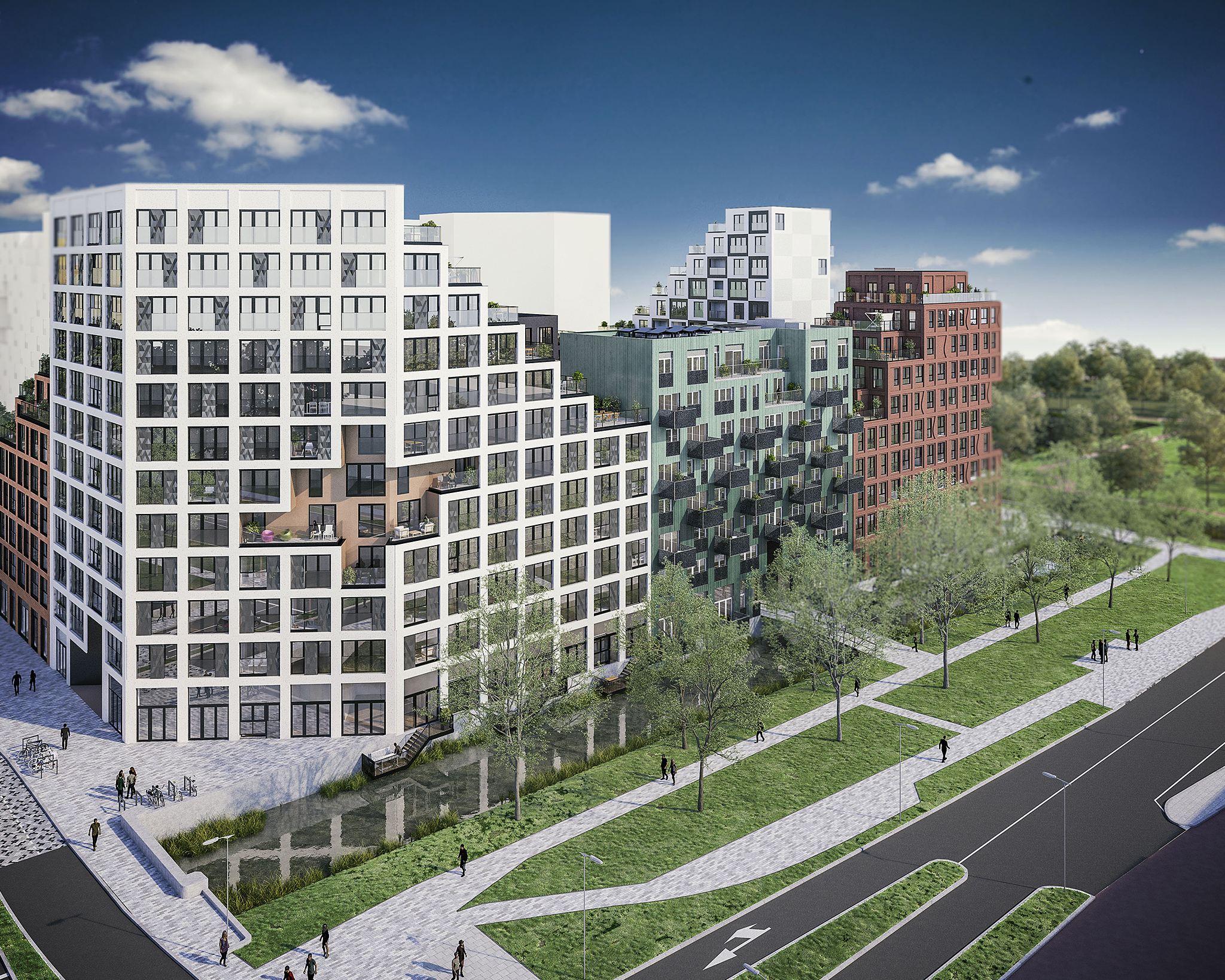 Logische keus om daar woningen te bouwen
Of course it takes courage, Snippe admits. 'But this daring has to go hand-in-hand with vision and common sense. The idea to create homes here is a logical one, particularly when you look at Amsterdam and its surroundings from a metropolitan perspective. Homes in Amsterdam itself are pretty much unaffordable now. At Hyde Park, we are working on the basis of prices starting at 5,500 Euros per square metre, with a mix of home types. We have obligations towards social housing and the mid segment, combined with student accommodation and supported housing. The Amsterdam housing corporation Ymere has also decide to acquire apartments.'
'The attractiveness of Hyde Park for those looking for a home but unable or unwilling to pay Amsterdam prices will only increase in the years ahead, with the extension of the Noord-Zuid metro
line to Schiphol and Hoofddorp almost certain to proceed. Approximately 3,800 homes will be built in Hyde Park, offering accommodation to at least 6,000 people, the majority of whom working in Amsterdam. This makes the extension of the Noord-Zuid line extremely attractive, as well as defensible from an economic perspective. This will also allow Hoofddorp to grow further as a public transport hub towards the south (Leiden, The Hague and Rotterdam) and the west (Haarlem).'
Attractive location
Hyde Park is an attractive location in other respects, too. Snippe: 'The new neighbourhood is within walking distance of the retail centre of Hoofddorp, which has an excellent shopping centre. This retail centre attracts 8 million visitors a year and has a zero vacancy rate. On the other side of the railway line, you have the highly successful sustainable business and office area Beukenhorst-Oost. Hoofddorp and the municipality of Haarlemmermeer have been recognised as a residential urban area for some time now, with the new Floriande Vinex location and the homes in Nieuw-Vennep. There's a lot of greenery, woods and parks. Beukenhorst-West also adjoins woodland, and we're incorporating this into the plans by creating a beautiful urban park.'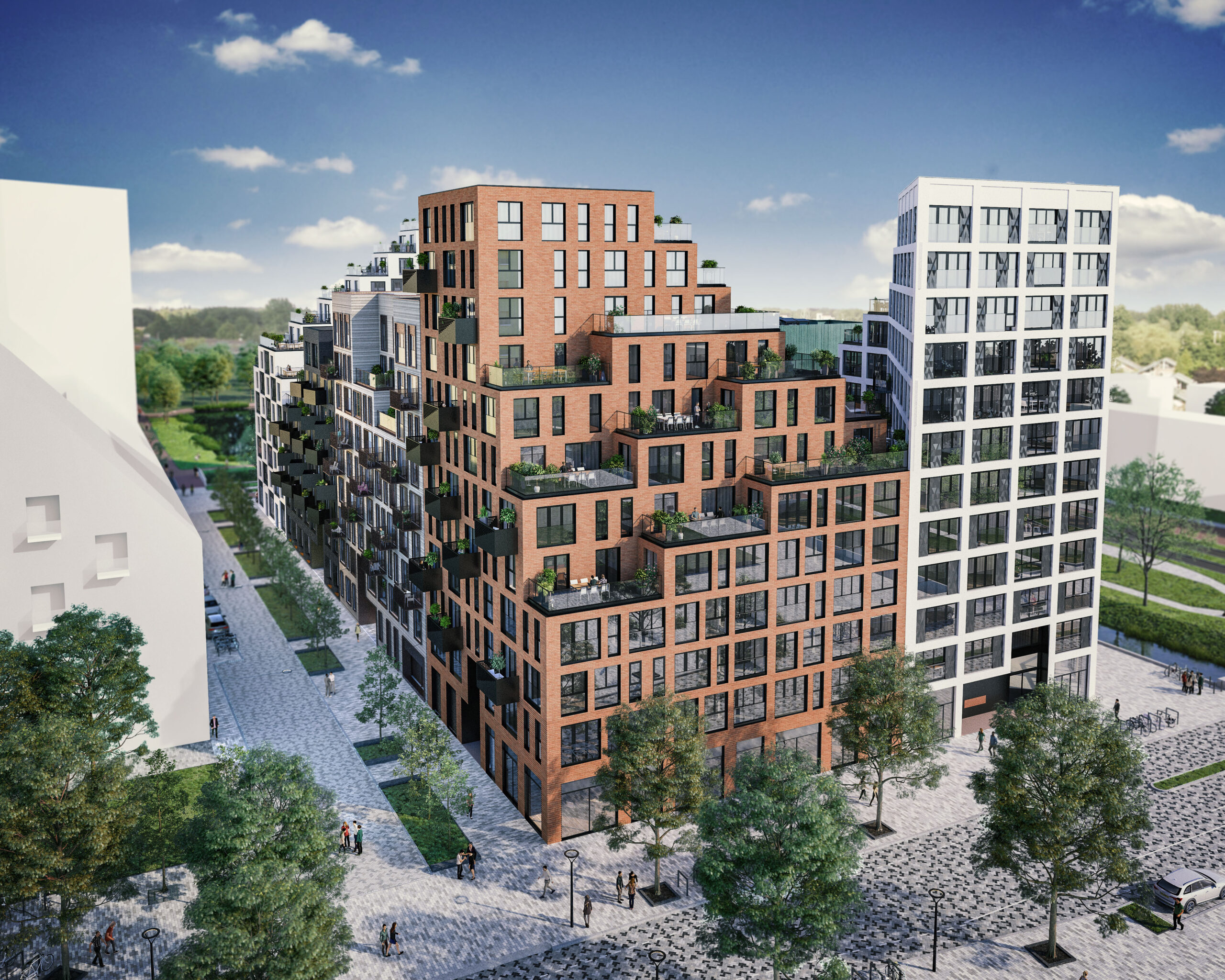 Cooperation
Snippe doesn't want to reveal the total investment involved in Hyde Park, but it is known that Rabobank cooperated in the finance three years ago. 'That was a logical decision. Rabobank has always been my house bank. The bank has provided generous support for our plans.'
Initially, Hyde Park was an initiative by Snippe Projecten and IC Nederland, but last year BPD took over the role of partner. BPD is a renowned international housing developer which emerged from
Bouwfonds and is still owned by Rabobank. 'I am very happy to now have BPD on board as our partner in this project. BPD is also very enthusiastic about this sustainable housing project and is in agreement with my views about quality in combination with beauty. BPD and Snippe Projecten reinforce one another.'
Master Plan for Hyde Park
The master plan for Hyde Park is by renowned architect Winy Maas of Rotterdam-based MVRDV architects. Maas is known for a number of high-profile projects, achieving his international breakthrough with his design for Rotterdam's Markthal. 'I drew my inspiration from the London Docks, which is why I chose the name Hyde Park. Hyde Park is one of the Royal Parks, still owned by the British royal family. This Hyde Park neighbourhood in Haarlemmermeer will have an un-Dutch look in terms of its image, sustainability, quality and infrastructure. Other architects who have designed apartment complexes for Hyde Park include: Barcode Architects, Roberto Meyer of MVSA, Team V and Studioninedots. Landscape architect Piet Oudolf is responsible for the courtyards.'
Support from the City
Construction and sales for the first block (Kensington) are now under way. This block, designed by Barcode Architects, consists of 233 luxury apartments in the price category 359,500 to 1,249,500 Euros, purchasing costs payable by the vendor. The exceptional thing about this block is that Kensington is made up of seven 'houses'. Each of these has its own look thanks to variations in colour and materials used. Each house contains between 22 and 51 apartments.
Snippe: 'We recently held the opening of our Hyde Park House, with a fully equipped information centre, sales offices, model homes, showrooms for interiors and a local Rabobank office offering the opportunity for a financial consultation with a bank employee. To make purchasing an apartment attractive to starters, the City of Haarlemmermeer is also offering an additional starters' loan on top of the normal mortgage loan. This is available for the first-time purchase of a home with purchasing costs payable by the vendor at a price of 310,000 Euros or less. This has attracted a great deal of interest from potential residents.'
Snippe is absolutely convinced that Hyde Park will be a success: 'The City of Haarlemmermeer has been enthusiastic about our plans from the start and cooperated fully in getting this project off the ground. This support is essential. 'Doing it together' is the key to success. We have entered into sound agreements with the local authorities. It is also a matter of trust, with all parties involved responsible for ensuring that the agreements entered into are actually implemented. Hyde Park is such an attractive, high-quality plan that everyone wants to work towards its success.'
Consequences of the  coronavirus
The corona pandemic and lockdowns, as well as all the restrictions on movement, have not yet led to problems or delays. Snippe: 'This goes for the whole of the property sector in the Netherlands, as far as I can tell. But once corona is behind us – or the pandemic is largely over – we will see a different society emerge. I think that the days when we could fly off on a short holiday seven times a year are over, for now at least. Working from home will become much more the norm, which will make good, spacious accommodation highly desirable. 'Making your house your home again' is the idea we are responding to with our apartments in Hyde Park. I am aware that 3,800 apartments is a drop in the ocean when there is a shortage of at least 300,000 homes in the Randstad area alone – but it's a drop that can make a difference. Especially as this part of the Randstad is economically significant. A lot of international businesses have a presence here, and Brexit means that their number will only increase.'
Snippe wants to stress one more point. 'Thanks in part to low interest rates, there is – fortunately – a lot of building going on again, even if it is far from enough. Something people tend to forget is that this should not be an excuse for making concessions on quality. When I look at projects in cities such as Paris, London and New York, I see that we in the Netherlands are falling short in terms of quality. In Hyde Park, we are not making any such compromises. BPD and Snippe Projecten stand for quality and design. This is why we are both talking about an un-Dutch look.'
Source: Vastgoedmarkt